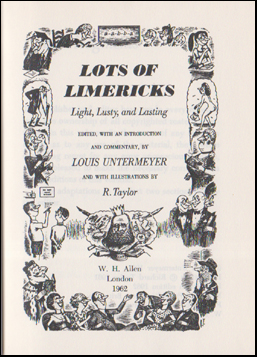 Lots of limericks by Louis Untermeyer
Lots of limericks: light, lusty, and lasting Hardcover – January 1, 1961
by Louis Untermeyer (Author)
Entertainment, Literary Studies, Humour, Wit
Product details
Binding: Hardcover, with dust jacket
Edition: 1st Edition
Item Weight: ‎250 g
Publication Date: 1961
Publisher: ‎Bell, 1961; 1961st edition (January 1, 1961)
Title: Lots of Limericks: Light, Lusty, and Lasting
Here are more than 250 famous and in- famous limericks, scrupulously selected and divided into six alluring sections: The Old Classics, Current Favourites, Tricks and Puzzles, Simply Ridiculous, Lightly Amatory and Rollicking and Rowdy.
Besides the inclusion of many examples by that favourite author, Anonymous, there are limericks by such eminent poets, novelists, and humourists as Conrad Aiken, Ogden Nash, Morris Bishop, Rudyard Kipling, Arnold Bennett, John Galsworthy, Robert Louis Stevenson, Oliver Wendell Holmes, W. S. Gilbert, Eugene Field, Lewis Carroll and, of course, that Old Master, Edward Lear.
The last two sections contain subtly para- phrased versions of what previously have been considered unprintable, though not unspeakable, limericks. These, as well as the rest of the contents, have been carefully picked from some thousands hitherto heard only at cocktail parties and/or circulated surreptitiously wherever Good Fellows (and their feminine counterparts) Get Together.
It is recommended that these limericks be taken in small sips rather than in large doses.
In that way they will serve as a refreshing effervescent, if somewhat highly flavoured, tonic... with or without gin.
LOUIS UNTERMEYER has written or compiled sixty-one books, including a number of standard works on poetry; nine volumes of his own poetry have been published.
R. TAYLOR has illustrated many books, including the highly successful Fractured French. His cartoons appear regularly in the New Yorker.
W. H. ALLEN
A random sampling, carefully chosen :
Now what in the world shall we dioux
With the bloody and murderous Sioux
     Who some time ago
     Took an arrow and bow
And raised such a hellabelioux?
------
It's time to make love, douse the glim.
The fireflies flicker and dim.
     The stars lean together
     Like birds of a feather
And the loin lies down with the limb.
------
A cheese that was aged and grey
Was walking and talking one day.
     Said the cheese, "Kindly note
     My mama was a goat
And I'm made of curds by the whey."
------
I wish that my room had a floor;
I don't care so much for a door;
     But this walking around
     Without touching the ground
Is getting to be quite a bore.