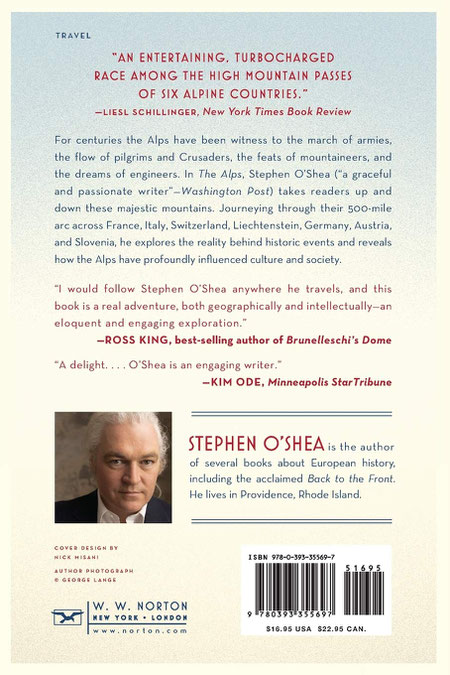 The ALPS by Stephen O'shea
A human history from hannibal to heidi and beyond
The Alps have seen the march of armies, the flow of pilgrims and Crusaders, the feats of mountaineers and the dreams of engineers—and some 14 million people live among their peaks today. In The Alps, Stephen O'Shea takes readers up and down these majestic mountains, journeying through their 500-mile arc across France, Italy, Switzerland, Liechtenstein, Germany, Austria and Slovenia. He explores the reality behind Hannibal's crossing; he reveals how the Alps have influenced culture from Frankenstein to Heidi and The Sound of Music; and he visits the spot of Sherlock Holmes's death scene, the bloody site of the Italians' retreat in the First World War and Hitler's notorious Eagle's Nest. Throughout, O'Shea records his adventures with the watch makers, salt miners, cable-car operators and yodelers who define the Alps today.
Recensioner i media
"Stephen O'Shea's sardonic, science-rich travelogue..." -- Nature "His [Stephen O'Shea's] account of his journey, all 500 miles and seven countries of it, is a soaring success, erudite, entertaining and human... the Alps cry out to be explored. Start with this book." -- i paper "Veteran traveller Stephen O'Shea takes the reader on a delightful 500-mile historical romp through the Alps... It is well worth making space in the rucksack for this on your next Alpine holiday." -- Geographical
Övrig information
Stephen O'Shea is the author of several books about European history, including the acclaimed Back to the Front and Sea of Faith. He lives in Providence, Rhode Island.
Undertitel: A human history from hannibal to heidi and beyond
Antal sidor: 336
Dimensioner: 209 x 140 x 19 mm
Format: Häftad (Paperback / softback)
Författare: Stephen O'Shea
Förlag: WW Norton & Co
Illustratör/Fotograf: 4 maps
ISBN: 9780393355697
Språk: Engelska
Utgivningsdatum: 2018-01-09
Vikt: 264 g
https://www.mezerah.com/english-books/english-books-1/#cc-m-product-12088113028