Lycka! en handbok i konsten att leva av Dalai Lama & Howard C. Cutler
Beskrivning:
Vad innebär det egentligen att vara lycklig? Och hur når vi dit? I bästsäljaren Lycka! samtalar Dalai Lama och den amerikanske psykiatrikern Howard C. Cutler om frågorna vi alla någon gång ställer oss. Vi får ta del av den tibetanske ledarens tankar kring vardagsproblem som ängslan och ensamhet, avundsjuka och besvikelser. För Dalai Lama står källan till all mänsklig lycka att finna i grundläggande humanistiska värden som medkänsla, tolerans, ärlighet och förlåtelse, och bokens "livsrecept" handlar i hög grad om att odla den rätta mentala inställningen.
Nästan varje gång man ser honom skrattar han, eller åtminstone ler. Och han ger alla i sin omgivning lust att le. Han är Dalai Lama, Tibets andlige och världslige ledare, Nobelpristagare och en allt populärare talare och statsman. Varför är han så omtyckt? Redan efter att bara ha tillbringat några minuter i hans sällskap kan man inte låta bli att känna sig lyckligare.
Om man frågar Dalai Lama om han är lycklig svarar han obetingat ja, trots att han genomlidit förlusten av sitt land. Och dessutom säger han att lycka är ändamålet med livet, och att "själva rörelsen i livet går mot lyckan". Hur man kommer dithän har alltid varit frågan. Han har försökt besvara den förut, men först nu har han med hjälp av en psykiatriker kunnat förmedla budskapet i ett sammanhang som vi lätt kan ta till oss. Genom samtal, berättelser och meditationer visar Dalai Lama oss hur vi ska besegra vardaglig oro, otrygghet och nedstämdhet.
Tillsammans med Howard C. Cutler utforskar han många sidor av det dagliga livet - inberäknat relationer, förluster och strävan efter rikedom - för att illustrera hur man kan komma förbi hindren styrkt av en djup och varaktig inre frid. LYCKA! bygger på 2500 års buddhistiska meditationer blandade med en kraftig dos sunt förnuft. Det är en bok som korsar traditionens gränser för att lösa problem som är gemensamma för alla människor.
Titel: Lycka! en handbok i konsten att leva
Författare: Dalai Lama & Howard C. Cutler
Förlag: Richters
översättare: Anita Sandberg
Originalspråk, -titel: Engelska, The Art of Happiness
Utgiven datum: 2002
Genre, ämnesord: psykologi , Rådgivning
ISBN10: 91-7711-961-4
ISBN13: 9789177119616
Språk: Svenska
Bindning: Pocket
Mått (mm): 179 x 110 x 15 mm
Sidantal: 316 sidor
Vikt (g): 167 g
Utdrag ur boken:
Jag ser på alla mänskliga varelser från en mer positiv sida, jag försöker se deras positiva sidor. den inställningen skapar omedelbart en känsla av gemenskap, en slags förbindelse.
och det kan delvis bero på att det från min sida finns mindre ängslan, mindrre rädsla för att personen kanske ska tappa respekten för mej eller tycka att jag är underlig om jag uppträder på ett visst sätt. eftersom den sortens ängslan och rädsla normalt saknas blir det ett slags öppenhet. jag tror att det är huvudfaktorn.
Om du har några frågor eller behöver ytterligare information, var snäll och kontakta Mezerah:
e-mail:  mezerah.eshop@gmail.com
Skaype ID:  mezerah.eshop
Boken kan beställas på följande URL:
https://www.mezerah.com//app/module/webproduct/goto/m/mf4124f300491c98c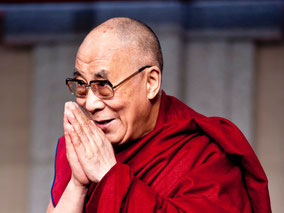 Om författare:
Dalai lama är, sedan slutet av 1500-talet, titeln på den högste religiöse ledaren inom tibetanska buddhismen som tillika fram till 1951 var Tibets mäktigaste politiske ledare. Dalai lama anses vara en bodhisattva, en upplyst person som har förskjutit sitt uppgående i nirvana och fortsätter att reinkarneras för att kunna hjälpa resten av mänskligheten. Den nuvarande Dalai lama är den 14:e sedan 1391, kallas Tenzin Gyatso, född den 6 juli 1935 och hette som liten pojke Lhamo Dondrub. Han tilldelades Nobels fredspris 1989.