Freedom by Jonathan Franzen
Description:
Winner of Galaxy National Book Awards: International Author of the Year 2010
Freedom follows several members of an American family, the Berglunds, as well as their close friends and lovers, as complex and troubled relationships unfold over many years. The book follows them through the last decades of the twentieth century and concludes near the beginning of the Obama administration.
Freedom opens with a short history of the Berglund family from the perspective of their nosy neighbors. The Berglunds are portrayed as the most ideal liberal middle-class family, and they are among the first families to move back into urban St. Paul, Minnesota, after years of white flight to the suburbs. Patty Berglund is an unusually young and pretty homemaker with a self-deprecating sense of humor; her husband Walter is a mild-mannered lawyer with strong environmentalist leanings.
They have one daughter, Jessica, and a son, Joey, who early on displays an independent streak and an interest in making money. Joey becomes sexually involved with a neighborhood teen named Connie and begins to rebel against his mother, going so far as to move in with Connie, her mother, and her mother's boyfriend Blake, making Patty and Walter increasingly unstable. After several unhappy years, the family relocates to Washington, D.C., abandoning the neighborhood and house they worked so hard to improve. Walter takes a job with an unorthodox environmental project, tied to big coal.
The second portion of the book takes the form of an autobiography of Patty Berglund, composed at the suggestion of her therapist. The autobiography tells of Patty's youth as a star basketball player, and her increasing alienation from her artistically inclined parents and sisters. Instead of attending an East Coast elite college like her siblings, she gets a basketball scholarship to the University of Minnesota and adopts the life of the athlete. She meets an attractive but unattainable indie rock musician named Richard Katz, and his nerdy but kind roommate, Walter Berglund. After her basketball career-ending knee injury, Patty suddenly becomes desperate for male affection, and after failing to woo Richard, she settles down with Walter, who had been patiently courting her for more than a year. We learn that Patty retained her desire for Richard and eventually had a brief affair with him at the Berglunds' lakeside cabin.
The novel then jumps ahead to New York City in 2004 and shifts to the story of Walter and Patty's friend Richard, who has finally succeeded in becoming a minor indie rock star in his middle age. His hit album Nameless Lake tells the story of his brief love affair with Patty at the Berglunds' lakeside cabin in Minnesota. Richard is uncomfortable with commercial success, throws away his new-found money, and returns to building roof decks for wealthy people in Manhattan. Walter calls him out of the blue to enlist his help as a celebrity spokesman for an environmental campaign. Walter has taken a job in Washington, D.C. working for a coal mining magnate who wants to strip mine a section of West Virginia forest before turning it into a songbird preserve of future environmental value. Walter hopes to use some of this project's funding to hold a concert to combat overpopulation, the common factor behind all his environmental concerns, and he believes that Richard will be able to rally well-known musicians to his cause. Meanwhile, Walter's marriage to Patty has been deteriorating steadily, and his pretty young assistant Lalitha has fallen deeply in love with him.
In parallel, the Berglunds' estranged, Republican son Joey attempts to finance his college life at the University of Virginia by taking on a dubious subcontract to provide spare parts for outdated supply trucks during the Iraq War. While at college, he marries his childhood sweetheart but dares not tell his parents. After visiting his roommate's family in the DC suburbs, he also pursues his friend's beautiful sister Jenna and is exposed to her father's Zionist, neoconservative politics. After months of pursuing Jenna, when she finally wants him to have sex with her, he cannot maintain an erection. Later he becomes conflicted after making $850,000 selling defective truck parts to military suppliers in Iraq. In the end Joey gives away the excess proceeds of his profiteering, reconciles with his parents, settles down with Connie, and moves into a sustainable coffee business with the help of his father Walter.
Now, Richard's re-appearance destroys Walter and Patty's weakening marriage. Richard tries to convince Patty to leave Walter, but she shows Richard the autobiography she wrote as "therapy", trying to convince him that she's still in love with Walter. Richard deliberately leaves the autobiography on Walter's desk, and Walter reads Patty's true thoughts. Walter kicks Patty out of the house, and she moves to Jersey City to be with Richard, but the relationship only lasts six months. Later, she moves to Brooklyn alone and takes a job at a private school, discovering her skill for teaching younger children. When Patty leaves him, Walter has a catharsis on live television, revealing his contempt for the displaced West Virginian families and his various commercial backers. Local rednecks respond by dragging him from the platform and beating him up. He is promptly fired by the environmental trust, but his TV debacle makes him a viral video hero to radical youth across the nation. He and his assistant Lalitha become lovers and continue their plans to combat overpopulation through a concert to rally young people in the hills of West Virginia. Lalitha is killed in a suspicious car accident a few days before the concert is due to take place. Shattered, and having lost both of the women who loved him, Walter retreats to his family's lakeside vacation house back in Minnesota. He becomes known to a new street of neighbors as a cranky old recluse, obsessed with house cats killing birds nesting on his property.
After a few years living in Brooklyn, Patty's father dies and she is forced to settle the fight that erupts within her family of spoiled bohemians as they attempt to split up the much-diminished family fortune. This experience helps Patty to mature. After a few years of living alone, she appraises the emptiness of her life and honestly faces her advancing age. She decides to hunt down Walter, the only man who had ever really loved her. She drives to the lakeside cabin in Minnesota, and despite his rage and confusion, he eventually agrees to take her back. The book ends in 2008 as they leave as a couple to return to Patty's job in New York City, after turning their old lakeside vacation home into a cat-proof fenced bird sanctuary, named in memory of Lalitha.
The awful thing about life is this:" says Octave to the Marquis in Renoir's Rules of the Game. "Everyone has his reasons." That could be a motto for novelists as well, few more so than Jonathan Franzen, who seems less concerned with creating merely likeable characters than ones who are fully alive, in all their self-justifying complexity. Freedom is his fourth novel, and, yes, his first in nine years since The Corrections. Happy to say, it's very much a match for that great book, a wrenching, funny, and forgiving portrait of a Midwestern family (from St. Paul this time, rather than the fictional St. Jude). Patty and Walter Berglund find each other early: a pretty jock, focused on the court and a little lost off it, and a stolid budding lawyer, besotted with her and almost burdened by his integrity. They make a family and a life together, and, over time, slowly lose track of each other. Their stories align at times with Big Issues--among them mountaintop removal, war profiteering, and rock'n'roll--and in some ways can't be separated from them, but what you remember most are the characters, whom you grow to love the way families often love each other: not for their charm or goodness, but because they have their reasons, and you know them. --Tom Nissley
Title: Freedom
Author: Jonathan Franzen
ISBN 10: 978-0-00-742332-3
ISBN 13: 9780007423323
Language: English
Publisher: HarperCollins Publishers
Genre/Subject: Novel/Family life
Place of publication: London
Year Published: 2010
Binding: Pocket
Number of Pages: 706
Dimensions (mm): 172 x 110 x 42
Shipping Weight (g): 424
If you have any questions or need additional information, please feel free to contact Mezerah:
e-mail:  mezerah.eshop@gmail.com
Skaype ID:  mezerah.eshop
Pertinent URL:
http://www.theguardian.com/books/2010/sep/19/freedom-jonathan-franzen-review
The book can be ordered on:
https://www.mezerah.com//app/module/webproduct/goto/m/m6fff1feeb7726612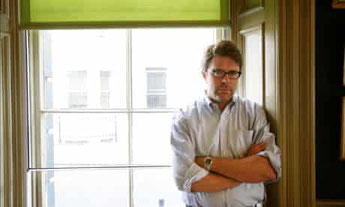 About the Author:
Jonathan Franzen was born in 1959 and graduated from Swarthmore College. He has lived in Boston, Spain, New York, Colorado Springs and Philadelphia. His other novels are 'The Twenty-Seventh City', 'Strong Motion', and 'The Corrections'. He is also the author of 'How to Be Alone', a collection of non-fiction, and 'The Discomfort Zone', a memoir. His fiction and non-fiction appear frequently in the 'New Yorker' and 'Harper's', and he was named one of the best American novelists under forty by 'Granta' and the 'New Yorker'. He lives in New York City.